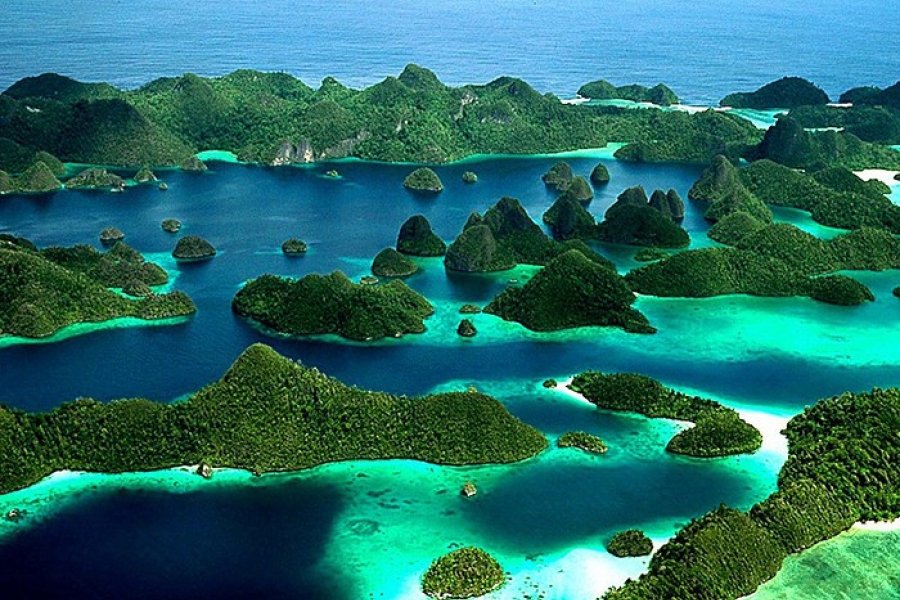 Life, religion and art all converge in Bali. They have no word in their language for «artist» or «art». Everyone is an artist. Anais Nin
With willingness, there is a possibility.
An empty drum gives loud sound.
Calm water does not mean there are no crocodiles.
Beware, the enemy lies under your blanket.
Indonesia is a country in Southeast Asia and Oceania, between the Indian and Pacific oceans. It consists of more than seventeen thousand islands, including Sumatra, Java, Borneo (Kalimantan), Sulawesi, and New Guinea (Papua). Indonesia is the world's largest island country and the 14th-largest country by land area, at 1,904,569 square kilometres (735,358 square miles). With over 267 million people, it is the world's 4th-most populous country as well as the most populous Muslim-majority country. Java, the world's most populous island, is home to more than half of the country's population
BALI
Bali is a province of Indonesia and the westernmost of the Lesser Sunda Islands. East of Java and west of Lombok, the province includes the island of Bali and a few smaller neighbouring islands, notably Nusa Penida, Nusa Lembongan, and Nusa Ceningan. The provincial capital, Denpasar, is the most populous city in the Lesser Sunda Islands and the second-largest, after Makassar, in Eastern Indonesia. Bali is Indonesia's main tourist destination, with a significant rise in tourism since the 1980s. Tourism-related business makes up 80% of its economy. Bali is the only Hindu-majority province in Indonesia, with 82.5% of the population adhering to Balinese Hinduism. It is also renowned for its highly developed arts, including traditional and modern dance, sculpture, painting, leather, metalworking, and music.
Kuta beach
Mount Batur
Gunung Batur is an active volcano located at the center of two concentric calderas north west of Mount Agung. The south east side of the larger 10×13 km caldera contains a caldera lake. The inner 7.5-kilometer-wide caldera, which was formed during emplacement of the Bali (or Ubud) ignimbrite, has been dated at about 23,670 and 28,500 years ago.
Padang Beach (Film Eat, love, pray)
Plaza Wisnu
It is devoted to the Hindu god Vishnu, and his mount, Garuda, the mythical bird who became his companion. The park has a land area of about 60 hectares and is 263 metres above sea level.
Seminyak beach
Tegalalang – rice terraces
Tirta Empul
Is a Hindu Balinese water temple. The temple compound consists of a petirtaan or bathing structure, famous for its holy spring water, where Balinese Hindus go to for ritual purification. The temple pond has a spring which gives out fresh water regularly, which Balinese Hindus consider to be holy or amritha. Tirta Empul means Holy Spring in Balinese.
Ubud – Monkey Forest
Mandala Suci Wenara Wana, or well known as Ubud Monkey Forest, is the sanctuary and natural habitat of the Balinese long-tailed Monkey, scientific name Macaca fascicularis.About 1049 monkeys live in this sanctuary. They are divided into 6 groups, namely in front of main temple group, forest conservation group, central point group, eastern group, Michelin group, and cemeteries group. We also divide the monkeys by age: 63 adult male, 34 Sub-adult male, 219 Adult female, 29 Sub-adult female, 167 juveniles 1 (2-3 year), 118 juveniles 2 (1-2 year), 63 Infant old (5-12 month) and 56 infant. The Monkey Forest Ubud has 186 species of plants and trees in 12,5 hectares of forest.
Ubud – Town
Uluwatu temple
Is a Balinese Hindu sea temple (Pura Segara). The temple (pura in Balinese) is built at the edge (ulu) of a 70-meter-high (230 ft) cliff or rock (watu) projecting into the sea. In folklore, this rock is said to be part of Dewi Danu's petrified barque.
A Kecak dance is a form of Balinese hindu dance and music drama that was developed in the 1930s. Since its creation, it has been performed primarily by men, with the first women's kecak group having started in 2006. The dance is based on the story of the Ramayana and is traditionally performed in temples and villages across Bali. Also known as the Ramayana monkey chant, the dance is performed by a circle of as many as 150 performers wearing checked cloths around their waists, percussively chanting "chak" and moving their hands and arms. The performance depicts a battle from the Ramayana, in which the monkey-like Vanaras, led by Hanuman, help Prince Rama fight the evil King Ravana. Kecak has roots in sanghyang, a trance-inducing exorcism dance.
Ulung Danu temple
Pura Ulun Danu Beratan, or Pura Bratan, is a major Hindu Shaivite Shiva temple in Bali, Indonesia. The temple complex is on the shores of Lake Bratan in the mountains near Bedugul. The water from the lake serves the entire region in the outflow area; downstream there are many smaller water temples that are specific to each irrigation association (subak). Built in 1633, the temple is used for offerings and ceremonies dedicated to the Balinese water, lake and river goddess Dewi Danu, due to the importance of Lake Bratan as a main source of irrigation in central Bali. The 11-storey pelinggih meru in the complex is dedicated to Shiva and his consort Parvathi. Buddha's statue is also enshrined in this temple. This temple is also called the "Bali temple on the Lake" because it looks as if it is floating when the Bratan River rises.