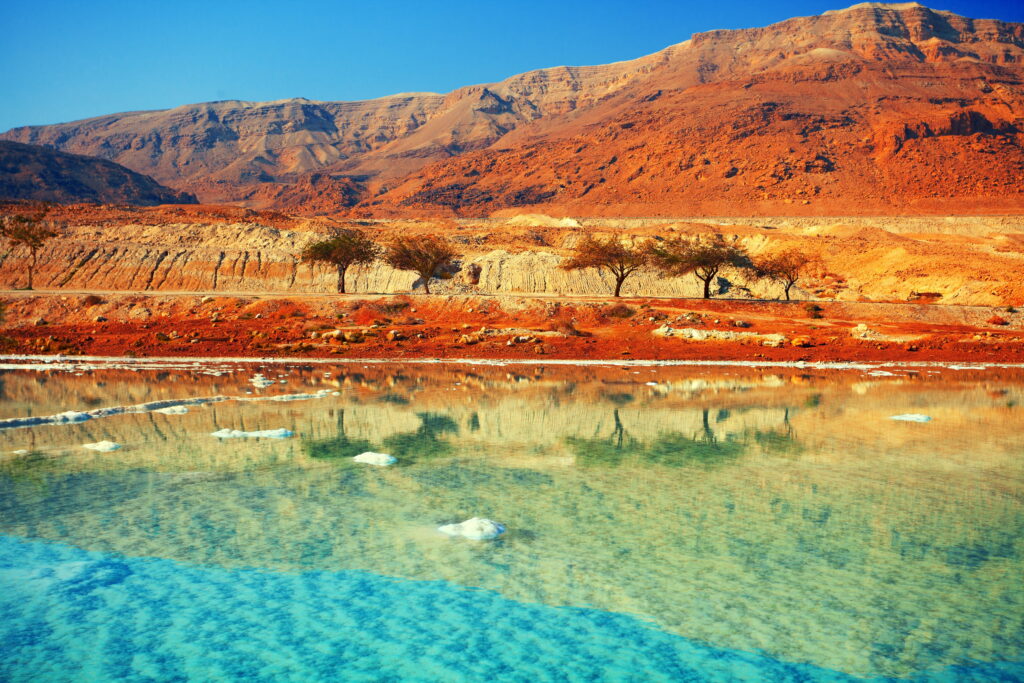 A bird that you set free may be caught again, but a word that escapes your lips will not return.
A cheerful heart is good medicine, but a crushed spirit dries up the bones.
A slave shows his true character, not while he is enslaved but when he becomes a master.
Do not respond to a barking dog.
Dead Sea
The Dead Sea is a salt lake bordered by Jordan to the east and Israel and the West Bank to the west. It lies in the Jordan Rift Valley, and its main tributary is the Jordan River. Its surface and shores are 430.5 metres (1,412 ft) below sea level, Earth's lowest elevation on land. It is 304 m (997 ft) deep, the deepest hypersaline lake in the world. With a salinity of 342 g/kg, or 34.2% (in 2011), it is one of the world's saltiest bodies of water – 9.6 times as salty as the ocean – and has a density of 1.24 kg/litre, which makes swimming similar to floating. This salinity makes for a harsh environment in which plants and animals cannot flourish, hence its name.
Jerusalem
Jerusalem is a city in the Middle East, on a plateau in the Judaean Mountains between the Mediterranean and the Dead Sea. It is one of the oldest cities in the world, and is considered holy to the three major Abrahamic religions—Judaism, Christianity, and Islam. Both Israel and the Palestinian Authority claim Jerusalem as their capital, as Israel maintains its primary governmental institutions there and the State of Palestine ultimately foresees it as its seat of power; however, neither claim is widely recognized internationally.
Massada
Masada is an ancient fortification in the Southern District of Israel situated on top of an isolated rock plateau, akin to a mesa. Herod the Great built two palaces for himself on the mountain and fortified Masada between 37 and 31 BCE. According to Josephus, the siege of Masada by Roman troops from 73 to 74 CE, at the end of the First Jewish–Roman War, ended in the mass suicide of the 960 Sicarii rebels who were hiding there.
Tel-Aviv
Tel Aviv-Yafo – Tel Aviv is governed by the Tel Aviv-Yafo Municipality, headed by Mayor Ron Huldai, and is home to many foreign embassies. A "party capital" in the Middle East, it has a lively nightlife and 24-hour culture. The city was founded in 1909 by the Yishuv (Jewish residents) as a modern housing estate on the outskirts of the ancient port city of Jaffa, then part of the Mutasarrifate of Jerusalem within the Ottoman Empire. It was at first called 'Ahuzat Bayit' (lit. "House Estate" or "Homestead"), the name of the association which established the neighbourhood. Its name was changed the following year to 'Tel Aviv', after the biblical name Tel Abib adopted by Nahum Sokolow as the title for his Hebrew translation of Theodor Herzl's 1902 novel Altneuland ("Old New Land").